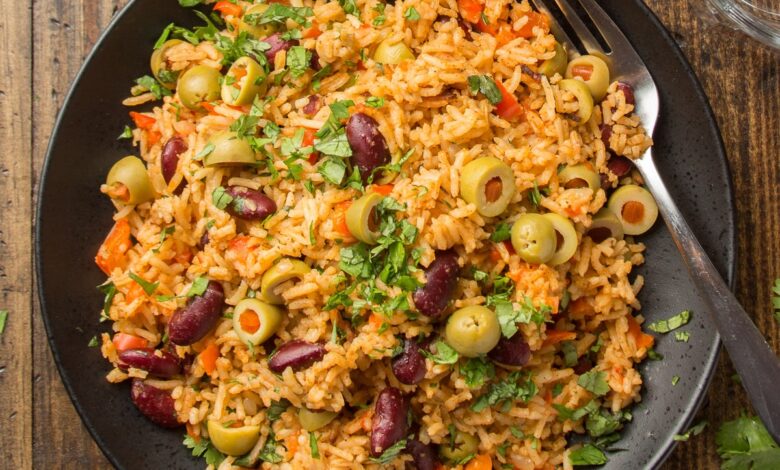 ONE-POT SPANISH RICE & BEANS

Ingredients
2 tablespoons olive oil
1 medium onion, diced
1 medium red bell pepper, diced
3 garlic cloves, minced
1 tablespoon ground cumin
1 teaspoon sweet paprika
1 teaspoon dried oregano
2 ¼ cups vegetable broth
1 ½ cups basmati rice
1 (15 ounce or 400 gram) can red kidney beans, drained and rinsed
1 tablespoon tomato paste
Salt to taste (I used ½ teaspoon)
1 cup pimento-stuffed green olives, halved
¼ cup chopped fresh cilantro
Instructions
Coat the bottom of a large pot with oil and place it over medium heat.
When the oil is hot, add the onion and bell pepper. Cook, stirring frequently, until the pepper softens a bit and the onion becomes translucent, about 5 minutes.
Stir in the garlic, cumin, paprika, and oregano. Cook for about 1 minute more, until the mixture becomes very fragrant.
Add the broth, rice, beans, and tomato paste. Turn up the heat to high and stir to fully dissolve the tomato paste.
Bring the liquid to a boil, and then lower the heat so that it's just at a low simmer.
Cover the pot and allow it to simmer for 15 to 20 minutes, until the rice is tender.
Remove the pot from the heat and let it sit for 5 minutes with the lid on.
Remove the lid and season the rice with salt to taste. Stir in the olives and cilantro.
Serve.
Nutrition Facts
One-Pot Spanish Rice & Beans
Amount Per Serving (1.25 cups)
Calories 356Calories from Fat 86
% Daily Value*
Fat 9.5g15%
Saturated Fat 1.6g8%
Sodium 938mg39%
Potassium 476mg14%
Carbohydrates 56.1g19%
Fiber 5.7g23%
Sugar 2.7g3%
Protein 10.9g22%
Calcium 40mg4%
Iron 3.2mg18%
Iron 3.2mg18%