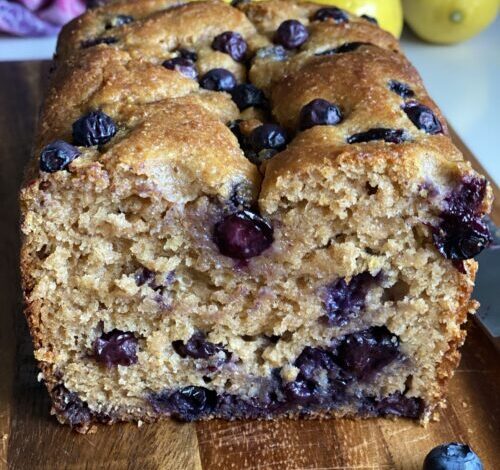 Moist, tender Blueberry Bread. Easy to make and bursting with berries! Perfect base recipe with options for fresh or frozen berries, lemon or crumb topping.
PREP TIME 15 mins
COOK TIME 45 mins
TOTAL TIME 1hour hr
COURSE : Bread
CUISINE : American
SERVINGS10 : Pieces
INGREDIENTS
3/4 cup white whole wheat flour or regular whole wheat flour or all-purpose flour
1/4 tsp ground cinnamon optional
1/2 tsp kosher salt
1 tsp baking powder
1/2 tsp baking soda
1 1/2 tsp pure vanilla extract
1/4 cup unsalted butter melted and cooled, or swap melted and cooled coconut oil or canola oil
1/2 cup honey
1 cup plain nonfat Greek yogurt at room temperature
1 cup blueberries fresh or frozen (if using frozen, do not thaw)
1/4 tsp ground cinnamon
2 tbsp raw turbinado sugar
2 large eggs at room temperature
1 small lemon optional
INSTRUCTIONS
Adjust the oven rack to the lower third position and preheat the oven to 350 degrees F.
Lightly coat a 8×4-inch loaf pan with nonstick spray. Set aside.
In a large mixing bowl, whisk together the flour, baking soda, baking powder, salt, and cinnamon.
Place the blueberries in a separate bowl and sprinkle with 1 teaspoon of the dry ingredients (this will help keep the blueberries from sinking to the bottom).
In a separate bowl, whisk together the Greek yogurt, honey, melted butter, vanilla, and lemon zest until smoothly combined.
Whisk in the eggs. If the butter re solidifies, gently warm the bowl in the microwave, just until it melts again.
Add the wet ingredients to the dry ingredients, and with a wooden spoon or spatula, very gently stir the batter, stopping as soon as the flour disappears. Fold in the blueberries.
For the topping, if using: In a small bowl, stir together the raw sugar and cinnamon.
Spoon the batter into the prepared baking pan and smooth the top. Sprinkle with the cinnamon-sugar topping, if using.
Bake for 30 minutes, then loosely tent the pan with foil to keep the bread from browning too quickly.
Continue baking for 15 to 20 additional minutes (45 to 50 minutes total), or until a toothpick inserted in the center of the loaf comes out clean without any wet batter clinging to it.
Place the pan on a wire rack and let cool completely. Transfer to a cutting board, slice, and enjoy!
NOTES
TO STORE: Store bread at room temperature for 2 days or in the refrigerator for up to 1 week.
TO FREEZE: Freeze as a whole loaf or in individual slices for up to 3 months. Let thaw overnight in the refrigerator.
To make gluten free: use a 1:1 GF all-purpose blend like this one.
Please see below for full nutritional info and additional details about recipe:
WW Points and other Slimming or Weight Loss programs – due to plans regularly changing and updating, we recommend calculating with the official tools you get as a member to those plans to ensure accuracy of values.
Nutritional Info:
SERVING: 1slice (of 10)CALORIES: 199kcalCARBOHYDRATES: 32gPROTEIN: 7gFAT: 6gSATURATED FAT: 3gCHOLESTEROL: 46mgPOTASSIUM: 129mgFIBER: 3gSUGAR: 16gVITAMIN A: 195IUVITAMIN C: 1.5mgCALCIUM: 65mgIRON: 0.8mg