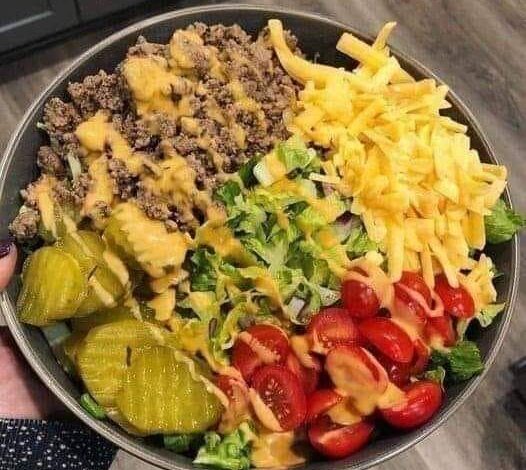 This easy low carb Big Mac salad recipe is ready in just 20 minutes! A gluten-free, keto cheeseburger salad like this makes a healthy lunch or dinner.
PREP TIME 10 mins
COOK TIME 10 mins
TOTAL TIME 20 mins
COURSE : Salad
CUISINE : American
SERVINGS : 6
INGREDIENTS
1 lb Ground beef
1 cup Tomatoes (chopped)
8 oz Romaine lettuce (chopped; or iceberg lettuce if desired)
1/4 tsp Black pepper
1 tsp Sea salt
1/2 cup Pickles (diced)
Sesame seeds (optional, for garnish)
3/4 cup Cheddar cheese (shredded)
Dressing
2 tbsp Pickles (diced)
1/2 c Mayonnaise
1 1/2 tbsp Besti Powdered Monk Fruit Allulose Blend (or regular or sugar-free honey; adjust to taste)
1/2 tsp Smoked paprika
1 tsp White vinegar
2 t Mustard
INSTRUCTIONS
Add the ground beef to a large skillet over medium-high heat. (You can add a little oil if needed.)
Break apart with a spatula and season with salt and pepper.
Cook for 8-10 minutes, stirring occasionally, until the beef is browned and moisture has evaporated.
Meanwhile, puree all the dressing ingredients in a blender.
If dressing is thicker than you like, thin out with water or oil and puree again.
Adjust sweetener to taste. Refrigerate until ready to serve.
In a large bowl, combine the lettuce, tomatoes, shredded cheese, and pickles.
Add the ground beef. Drizzle the dressing over the salad.
Toss to coat.Garnish with sesame seeds if desired.
NOTES
Nutritional Info:
Serving size: 1 1/2 cups
Calories368%Fat 31g%Protein 18g%Total Carbs 3g%Net Carbs 2g%Fiber 1g%Sugar 1g