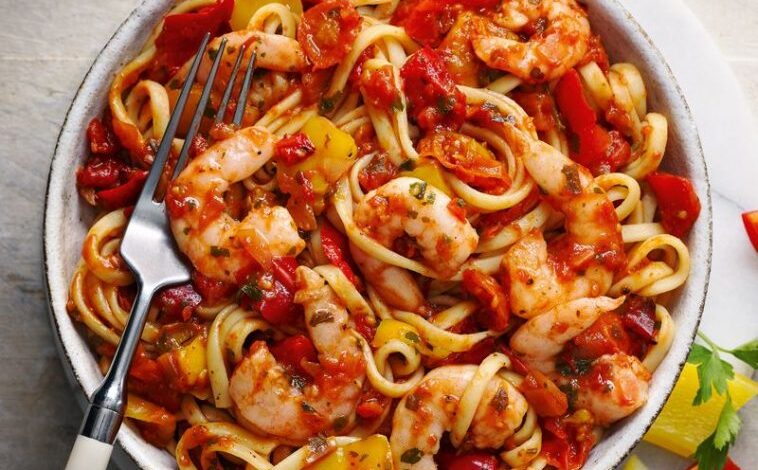 Feel like a treat? Grab some prawns and whip up this special dish with a spicy kick
Syn free45 minutesServes 4
Ingredients
Low-calorie cooking spray
2 large red peppers, deseeded and roughly chopped
1 large yellow pepper, deseeded and roughly chopped
1 large onion, roughly chopped
3 garlic cloves, crushed
¼ tsp dried chilli flakes
1 tsp dried oregano
½ tsp smoked paprika
3 tbsp tomato purée
400g can chopped tomatoes
1 vegetable stock cube
1 tsp balsamic vinegar
400g dried linguine pasta
200g cherry tomatoes, halved
400g peeled raw king prawns
Instructions
Spray a large non-stick saucepan with low-calorie cooking spray and place over a medium heat. Add the peppers and onion and cook for 10 minutes, stirring occasionally and adding a splash of water if anything starts to stick.
Stir in all the remaining ingredients except the linguine, cherry tomatoes and prawns. Add 350ml boiling water, reduce the heat to low and simmer for 15 minutes, stirring occasionally.
Meanwhile, cook the pasta according to the pack instructions and drain.
Add the cherry tomatoes and prawns to the sauce and simmer for a further 5-8 minutes or until the prawns are pink and cooked through. Season lightly and serve hot with a salad.