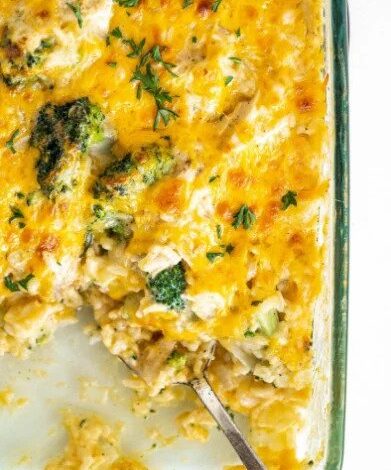 Prep Time: 15 minutes
Cook Time: 20 minutes
Total Time: 35 minutes
Servings: 6
Calories: 277kcal
Nutrition
Serving: 6g |
Calories: 277kcal |
Carbohydrates: 15.2g |
Protein: 29.1g |
Fat: 11.9g |
Sodium: 547mg |
Fiber: 3.1g
Ingredients
1 small onion chopped
1 Tbsp. olive oil
2 8-oz pkgs. sliced mushrooms
2 cups uncooked boneless skinless chicken breasts, cut into cubes
3 Tbsp. all-purpose flour
1 1/2 cups fat-free-milk
1 16-oz package steam-in-bag broccoli florets
1 5.3-oz container fat-free plain Greek yogurt
1/4 cup light mayonnaise
1/4 tsp salt
1/4 tsp. pepper
3/4 cup Mexican style cheese blend
Instructions
Preheat oven to 350º F. Spray 2-qt. casserole dish with cooking spray. Cook broccoli in microwave according to directions; set aside.
Heat olive oil over medium-high heat, add onion and mushrooms and cook until mushrooms are starting to get tender. Add cubed chicken. Cook until chicken is cooked through. Drain pan, if needed.
Sprinkle flour over chicken & mushroom mixture and stir constantly, cooking for one minute. Stir in milk. Bring to a boil and cook for 3 minutes, or until thick and bubbly.
Stir in cooked broccoli, and heat through about 1 minute. Add yogurt, mayo, salt and pepper, stirring lightly to combine.
Pour into prepared casserole dish. Sprinkle top with cheese and bake for 20 minutes, or until cheese melts and it's bubbly around the edges. Enjoy!!