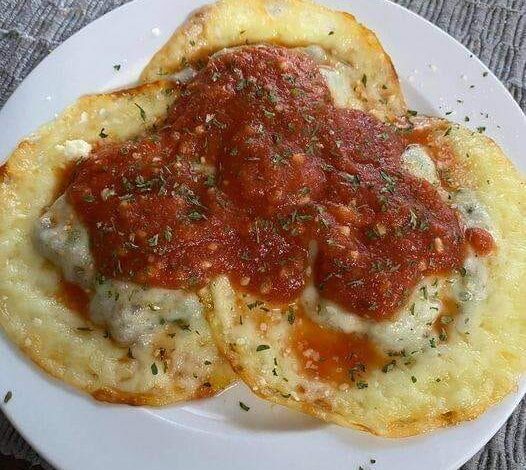 yield: 6 SERVINGS
prep time: 15 MINUTES
cook time: 4 MINUTES
total time: 19 MINUTES
Delicious low-carb ravioli made with provolone cheese in place of traditional pasta.
INGREDIENTS
24 slices provolone cheese
1 pound Italian ground sausage, cooked and drained
2 tablespoons cream cheese
2 tablespoons sour cream
1 cup mozzarella cheese, shredded
1/2 cup Rao's Marinara
DIRECTIONS
1
Preheat the oven to 350 degrees.
2
Line a baking sheet (or multiple baking sheets) with parchment paper. Add the 24 slices of provolone cheese to the baking sheet or sheets (depending on how large your baking sheets are) leaving space in between each piece and setting aside.
3
In a small bowl, mix together cooked ground Italian sausage, cream cheese, sour cream, and shredded cheese and set aside.
4
Place the baking sheet in the oven for 3 minutes or until the cheese starts to bubble and turn golden brown around the edges. Remove the baking sheet from the oven and let it cool for 3-5 minutes. You may have to do this in stages if you're using more than one baking sheet.
5
Add a scoop of Italian sausage filling to the middle of 12 of the cheese slices. Place the remaining 12 slices of melted provolone on top, lifting gently with a spatula.
6
Once placed, press down to seal the edges of the provolone cheese.
7
Turn the oven to broil and place the baking sheet back in the oven again. Keep an eye on the ravioli, you will only want these in for 30 seconds or so, just enough to heat the top slice to really seal the edges.
8
Remove ravioli from the oven and let cool for a few minutes before plating. Serve with your favorite keto marinara sauce and parmesan or pecorino romano cheese. Enjoy!