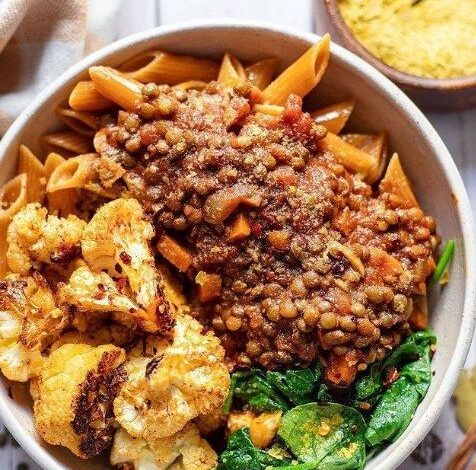 Ready in about 30 minutes, Serves 5
Ingredients.
1 onion small dice
2 garlic cloves minced
1 carrot peeled and cubed
1 cup dry French lentils
2 cups water
1 tbsp Vegan Beef Bouillon
1 tbsp smoked paprika
23 bay leaves
18 oz crushed tomatoes
1 tsp salt
1 pinch crushed red pepper
12 oz Whole Grain Pasta
1 tbsp olive oil
Method.
1. Put on water to boil and cook the pasta in the background while you make the sauce.
2. Heat a large and deep skillet over medium heat. Add olive oil, garlic, onion and carrots and cook for 5 minutes until fragrant.
3. Add water, bouillon, bay leaves, smoked paprika and lentils and bring to the boil. Cook for about 15 minutes until lentils are soft.
4. Add crushed tomatoes, salt, and crushed red pepper and simmer to meld the flavors. The sauce will be thick and hearty and lentils will be soft yet hold their shape when it is finished.
5. Toss Cooked pasta in the sauce.
6. Top with nootch, red pepper and serve with wilted spinach and roasted cauliflower and enjoy.