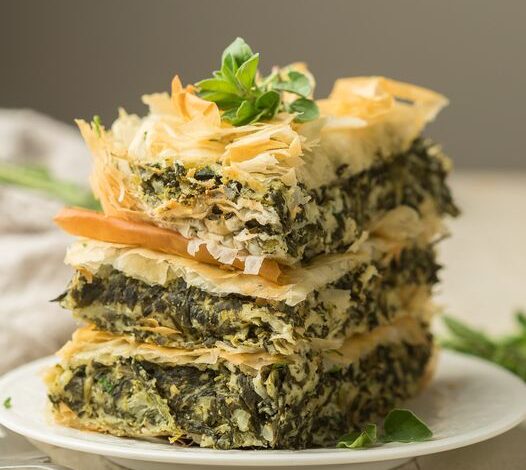 AMAZING VEGAN SPANAKOPITA

Ingredients
1 ½ cups raw cashews, soaked in water 4-8 hours, drained and rinsed
¾ cup unflavored and unsweetened non-dairy milk
3 tablespoons lemon juice
4 garlic cloves
1 ½ teaspoons salt, plus more to taste
½ teaspoon black pepper
24 ounces frozen spinach, thawed, drained, and squeezed to remove excess moisture
1 medium onion, diced
¼ cup chopped scallions
2 tablespoons chopped fresh dill
2 tablespoons chopped fresh oregano
24 sheets frozen phyllo pastry, thawed
½ cup olive oil, plus more as needed
Instructions
Place the cashews, milk, lemon juice, garlic, salt and pepper into a large blender or the bowl of a food processor fitted with an s-blade. Blend until relatively smooth.
Add the spinach, onion, scallions, dill and oregano to the food processor. Pulse until well mixed.
Taste-test the mixture and adjust any seasonings to your liking.
Preheat the oven to 400° and lightly oil the bottom of a 9 x 13 inch baking pan.
Arrange a sheet of phyllo pastry in the bottom of the pan, then carefully brush a layer of olive oil on top.
Arrange a second sheet of phyllo on top of the first, gently working out any bubbles between the two. Brush the second sheet with olive oil.
Repeat until you've layered 8 sheets, finishing with a phyllo sheet (don't brush the top of the last one with oil).
Evenly spread half of the spinach mixture on top of the last phyllo sheet, smoothing out the top with the back of a spoon or a spatula.
Arrange 8 more phyllo sheets on top of the spinach filling in the same manner, then top with the other half of the spinach filling.
Repeat the layering arrangement using the last 8 phyllo sheets. Brush the top sheet with olive oil.
Bake for about 25 minutes, until the pastry is golden brown and crispy.
Allow to cool for a few minutes, cut into 8 square and serve.
Nutrition Facts
Amazing Vegan Spanakopita
Amount Per Serving (1 square (⅛ of recipe))
Calories 464Calories from Fat 258
% Daily Value*
Fat 28.7g44%
Saturated Fat 5.1g26%
Sodium 804mg34%
Potassium 753mg22%
Carbohydrates 44.9g15%
Fiber 4.8g19%
Sugar 2.6g3%
Protein 11.2g22%
Calcium 140mg14%
Iron 6.7mg37%