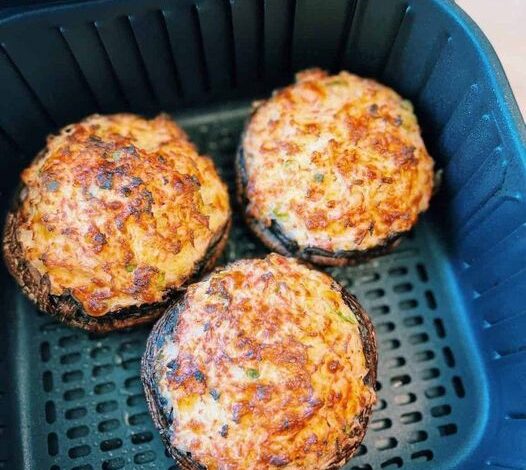 Air Fryer Stuffed Portabello Mushrooms
Ingredients:
4 large portobello mushrooms, stems removed and cleaned
1 cup cooked quinoa or rice
1 cup chopped spinach
1/2 cup cherry tomatoes, diced
1/4 cup red onion, finely chopped
2 cloves garlic, minced
1/2 cup feta cheese, crumbled
2 tablespoons olive oil
1 teaspoon dried oregano
Salt and pepper to taste
Fresh parsley for garnish (optional)
Instructions:
Preheat Air Fryer: Preheat your air fryer to 375°F (190°C).
Prepare Mushrooms: Remove the stems from the portobello mushrooms and clean them with a damp cloth. Lightly brush the mushroom caps with olive oil on both sides.
Prepare Filling: In a mixing bowl, combine cooked quinoa or rice, chopped spinach, diced cherry tomatoes, red onion, minced garlic, crumbled feta cheese, olive oil, dried oregano, salt, and pepper. Mix well until all ingredients are evenly combined.
Stuff Mushrooms: Spoon the quinoa mixture into each portobello mushroom cap, pressing it down gently.
Air Fry: Place the stuffed mushrooms in the air fryer basket, making sure they are not too crowded. You may need to cook them in batches if your air fryer is small. Air fry for about 12-15 minutes or until the mushrooms are tender and the filling is heated through.
Serve: Once done, carefully remove the stuffed mushrooms from the air fryer. Garnish with fresh parsley if desired. Serve them hot as a delicious appetizer or a light meal.