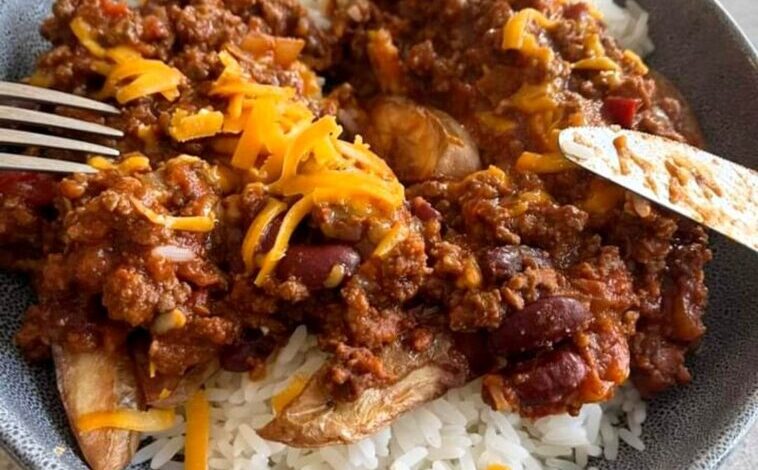 Spicy Chili Con Carne with Flavorful Rice
This recipe features a spicy and flavorful beef chili served with turmeric-infused rice, making it a perfect main course for lunch or dinner. With a cooking time of 55 minutes, this Chinese and Indian-inspired dish serves four people and is ideal for those looking for a healthy and delicious meal. Packed with protein from lean ground beef and fiber from red beans, this dish is both satisfying and nutritious. The combination of herbs and spices, such as cumin, paprika, and oregano, add a bold and savory taste to the chili, while the coriander in the rice adds a fresh and aromatic twist. Overall, this recipe is a great way to explore new flavors and enjoy a wholesome meal.
About Time
Prep Time 15 mins
Cook Time 35 mins
Total Time 55mins
Servings: 4.
FREE
We've got spicy smoked beef paired with turmeric and cilantro flavored rice.
Ingredients:
Low-calorie cooking spray
500g lean beef mince (5% fat or less)
1 large finely chopped onion
2 large red peppers, chopped and cubed
3 cloves of finely chopped garlic
1 chopped and cubed red pepper
1 tbsp tomato puree
1 tbsp dried oregano
1 tbsp smoked paprika
1 tbsp ground cumin
1 tsp hot chili powder
400g drained and washed kidney beans
2 x 400g chopped tomatoes
1 beef stock cube
300g dried long-grain rice
1 tsp ground turmeric
1/2 small pack of fresh cilantro, chopped
Instructions:
Spray a large non-stick pan with low-calorie cooking spray and place on high heat. Add the beef and cook for 5 minutes, breaking up any lumps with a spoon, then drain any excess fat.
Add the onion, peppers, garlic, chopped chili pepper, tomato puree, oregano, sweet pepper, cumin, and chili powder to the pan, then reduce the heat to medium and cook for 5 minutes.
Add the kidney beans, chopped tomatoes, beef stock cube, and 300ml of boiling water to the pan. Bring to a boil over high heat, then reduce the heat and simmer for 30 minutes.
Meanwhile, cook the rice and turmeric according to the package instructions in a separate pan. Drain well and stir in the chopped cilantro.
Serve the spicy beef chili with your favorite vegetables or salad.