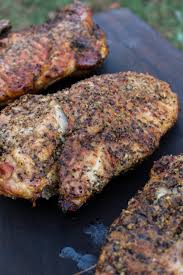 If you are someone that does not want to de-thaw and deal with a whole turkey, then try this Smoked Peppercorn Turkey Breast! Easy, simple and smoky delicious.
PREP TIME:20MINUTES MINUTES
COOK TIME:2HOURS HOURS 30MINUTES MINUTES
TOTAL TIME:2HOURS HOURS 50MINUTES MINUTES
COURSE:MAIN COURSE
CUISINE:AMERICAN
SERVINGS:8 PEOPLE
INGREDIENTS 
TURKEY:
▢3 Whole Turkey Breast skinned & de-thawed
▢2 tbsp of Mesquite Peppercorn Lager Seasoning or 1 tbsp of Sea Salt & 1 tbsp of Black Pepper
▢1.5 tbsp of Canola Oil
SPRITZ:
WRAP:
CRANBERRY CHILI BBQ SAUCE:
▢2 tbsp of Cranberry Jelly
▢1.5 tbsp of Ketchup
▢1 tbsp of Garlic Chili Paste
▢1.5 tsp of Rice Wine Vinegar
▢1.5 tsp of Honey
▢1 tsp of Worcestershire
INSTRUCTIONS
Lather the turkey breast is canola oil then season up using the Mesquite Peppercorn Lager Seasoning or the simple salt & pepper. Place the turkey in the fridge for at least 2 hours to set but ideally overnight.
Preheat your smoker to 275F cooking indirectly. Add some wood chips or chunks for additional smoke flavor.
Add the turkey to the smoker and cook for 1-1.5 hours spritzing with beer every 20 minutes.
Once the turkey hits 115F, pull it off.
Grab a 2 ft piece of aluminum foil and place 2 tbsp of butter on it. Add the turkey on top of the butter with 2 more tbsp of butter on top.
Completely wrap the turkey and place it back on the smoker.
Repeat this for all the turkey breasts.
Continue cooking the turkey for another 1 hour until it reaches 165F.
When done, pull it off and let rest for 10 minutes.
Add a cast iron sauce skillet to the smoker or over fire to preheat for 1 minute.
Add all the ingredients for the Cranberry Chili BBQ Sauce.
Let simmer for 5-7 minutes until warm and thickened.
Pull out the turkey and slice. Serve with the BBQ Sauce and enjoy!