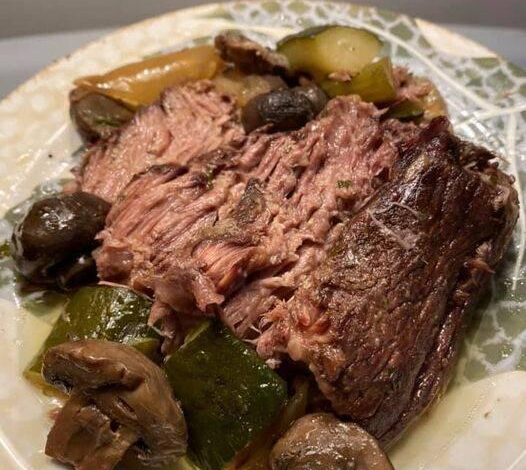 Ingredients
3-5 pound chuck roast
4 celery stalks cut in pieces
1 small white onion quartered
3 Tbsp Worcestershire sauce
1/2 tsp minced garlic
1/4 tsp black pepper
1 tsp dried parsley
4 Tbsp butter cut in slices
Pink salt to taste
Pepper to taste
Directions
1) Place vegetables in bottom of the crockpot. ( I added zucchini too but put it in 1 1/2hr before finished)
2) Season roast with salt & pepper.
3)Place roast on top of vegetables. (you could add in vegetables later to prevent it from getting too soggy)
4)In a small bowl combine Worcestershire sauce, garlic, pepper and parsley.
5)Pour the mixture over the roast.
6) Place butter slices on top.
7) Place lid on slow cooker and cook on low 8-9 hours.

 Add zucchini 1 1/2 hours before finished