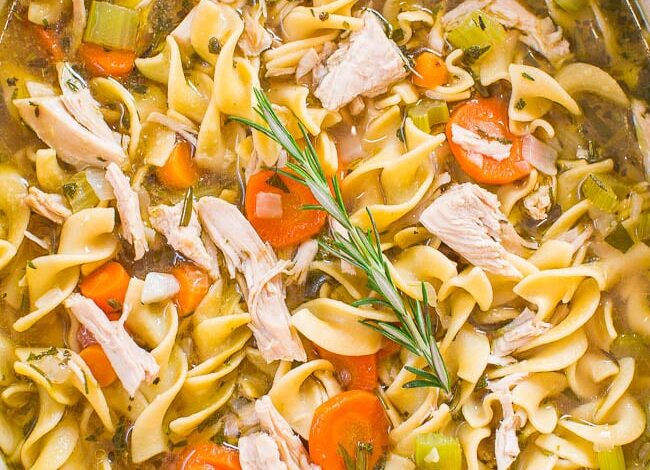 Homemade Turkey Noodle Soup
Ingredients
Broth (or use prepared chicken or turkey broth)
1 leftover turkey carcass from a 12- to 14-pound turkey
1 large onion cut into quarters
3 ribs celery cut into chunks
2 medium unpeeled carrots cut into chunks
4 cloves garlic peeled
2 bay leaves
1 teaspoon poultry seasoning or ½ teaspoon ground sage
12 cups water
Soup
tablespoons butter
cup finely diced onion
ribs celery diced
tablespoons flour optional
2 ½ cups leftover cooked turkey diced
1 teaspoon salt more to taste
1 teaspoon pepper
¼ teaspoon dried thyme
8 oz uncooked dried egg noodles
¼ cup fresh parsley finely chopped
Instructions
Broth
If using prepared or store-bought broth, skip ahead to "noodle soup" below. If making homemade broth from a turkey carcass, place all of the broth ingredients in a large soup pot and bring to a boil. Reduce heat to a simmer and cook partially covered for 3-4 hours. This can also be cooked in a large slow cooker for 10-12 hours.
Line a strainer with cheese cloth and strain the broth. Discard the bones and vegetables. Let the broth rest at least 20 minutes, skim the fat off of the top of the broth.
Taste and season the broth with salt & pepper. Add it back into the pot and simmer uncovered to reduce to 8 cups, about 20 minutes.
Noodle Soup
Cook the onion in butter until softened, about 3 minutes. Stir in flour and seasonings and cook for 1 minute. Add celery and carrot and cook for 2-3 minutes more.
Add broth, stirring into the vegetable mixture a bit at a time. Bring to a boil and reduce heat to a simmer. Cook until the vegetables are tender, about 5-7 minutes.
While the vegetables are cooking, cook egg noodles* in a large pot of salted water until al dente. Drain well.
Add the turkey and parsley to the soup and cook just until heated through. Season with additional salt & pepper.
Place egg noodles in the bottom of a serving bowl. Top with the soup.
Notes
If using prepared broth, add ½ teaspoon of poultry seasoning to soup with the vegetables.
Flour is optional but we prefer the consistency of the broth with a little bit of flour cooked in.
*Cooking the Noodles: Cook the noodles separately, this keeps them from getting mushy. If you are not planning for leftovers, the noodles can be cooked directly in the broth. Leftover soup should be stored separately from the noodles.
The broth can be prepared 3 days in advance and refrigerated.
If your turkey carcass is large, break it apart to fit in the pot.
If using a smaller carcass, either reduce the water or add a spoonful of bouillon (I like Better Than Bouillon turkey or chicken).
For a deeper flavor, a little bit of boxed broth or no sodium broth can be added in place of some of the water if desired.
Because the turkey is already cooked, it should be added at the end and just heated through so it doesn't dry out.
Leftover gravy can be added to the soup. It can also be thickened with a scoop or two of leftover mashed potatoes.