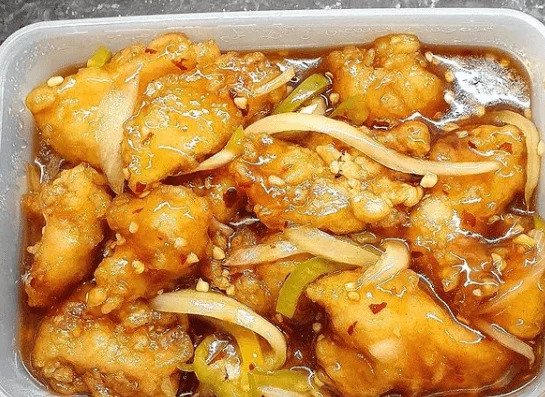 Prep Time 5 mins
Cook Time 15 mins
Course: Main Course
Cuisine:Chinese
Servings: 2
Calories: 288kcal
Nutrition
Calories: 288kcal
As always, its sensible to do your own Syn calculations when youre recreating any recipe that you make online.
Syns can vary from one brand to another, so if youre serious about tracking accurately, take a little time to double check.
Based on the brands of ingredients that I used here though, there is 4 Syns per portion.
Ingredients
2 chicken breasts skinless, chopped into bitesized chunks
1 tbsp sweet chilli dipping sauce
1 tbsp soy sauce
2 tbsp honey
1 large red chilli finely sliced – remove the seeds if you don't want it too hot, or add extra chilli if you're a heat freak!
1 half-inch sized piece ginger finely chopped
1/2 clove garlic minced or finely chopped
1 lemon juiced
1 tbsp cornflour
plain flour
75 ml cold water
Low calorie cooking spray
Instructions
Add flour to a large bowl, season with salt and pepper, and mix well. Coat the chicken with a light dusting of the mixture and set to one side.
Heat a heavy bottomed frying pan over a high heat, until as hot as possible. Spritz liberally with low calorie cooking spray.
Fry the chicken until it's browned and looking slightly crispy. Remove from the pan and set to one side on kitchen paper.
Add the chilli, garlic, and ginger to the pan and fry for a minute.
Add the honey to the pan and allow to bubble for a minute.
Meanwhile, in a cup, mix the cornflour, lemon juice, chilli sauce, water, and soy sauce. Stir well.
Pour the cornflour mixture into the pan with the honey, and stir well. As the sauce comes to the boil, it will thicken to your desired consistency.
Add the chicken for the last minute of cooking, and ensure that it is piping hot and cooked through.