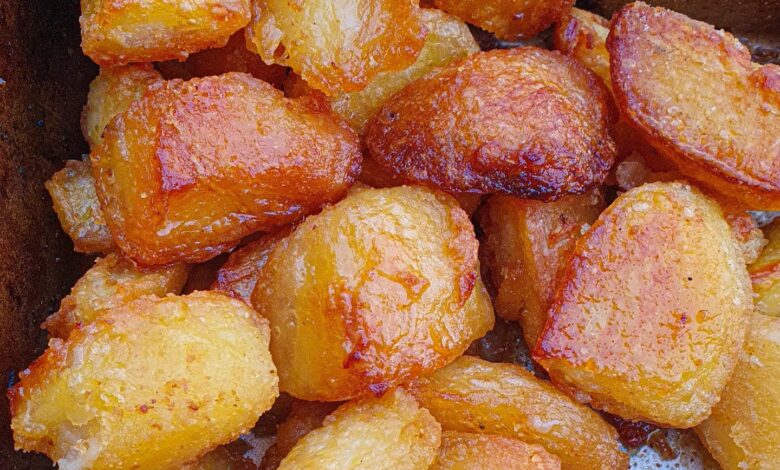 Easy Air fryer roast potatoes recipe! Crispy skin, fluffy inside, and delicious. They make a perfect side dish at Thanksgiving dinner, or Sunday roast dinners.
Ingredients
1 kg Potatoes
Salt
Cooking spray
For Air Fryer Garlic Herb Roasted Potatoes
2 tablespoon Butter
1 tablespoon Freshly chopped Parsley
1 teaspoon Garlic minced or paste
½ teaspoon Black pepper
Instructions
First peel the potatoes, cut into similar size and rinse. Add the potatoes in a pot and cover with water 2 inches above the potatoes.
Add salt, cover the pot and boil for 8 – 15 minutes depending on the size. Don't boil it too soft.Drain in a colander and shake the colander to create scuff on the potatoes then leave for 5 minutes to cool.
Add the scuffed potatoes in the air fryer basket, spray with cooking spray then air fry at a temperature of 190C for 20- 25 minutes.Shake at every 10 minutes intervals and spray with cooking spray to make sure all sides are golden brown and crisp.
When done, switch off the air fryer and bring out the roasted potatoes.
Serve with other sides of choice
For Garlic herb butter Roast Potatoes
Make garlic herb butter by mixing the butter, parsley, garlic, and black pepper then put in the fridge to chill.
Add the herb butter on the potatoes 5 minutes before bringing out of the air fryer.
Amount Per Serving
Calories: 140kcal | Carbohydrates: 25g | Protein: 3g | Fat: 3g | Saturated Fat: 2g | Cholesterol: 9mg | Sodium: 37mg | Potassium: 601mg | Fiber: 3g | Sugar: 1g | Vitamin A: 100IU | Vitamin C: 28mg | Calcium: 17mg | Iron: 1mg