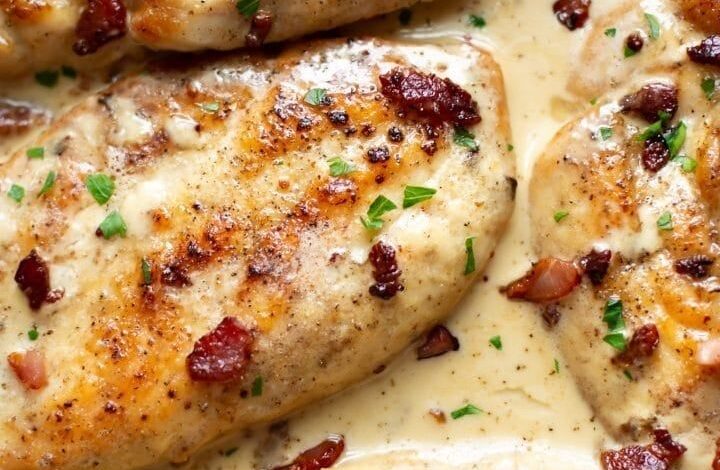 Ingredients:
4 boneless, skinless chicken breasts
Salt and black pepper to taste
6 slices turkey bacon, chopped
1 tablespoon olive oil
1 small onion, finely chopped
2 cloves garlic, minced
1 cup reduced-sodium chicken broth
1 cup fat-free Greek yogurt
1 tablespoon Dijon mustard
1 teaspoon dried thyme
Chopped fresh parsley for garnish (optional)
Instructions:
Season the chicken breasts with salt and black pepper to taste.
In a large skillet, cook the chopped turkey bacon over medium heat until crisp. Remove the bacon from the skillet and set it aside.
In the same skillet, add the olive oil and cook the chicken breasts for about 5-7 minutes on each side or until fully cooked and golden brown. Remove the chicken from the skillet and set it aside.
In the same skillet, add the chopped onion and cook until it becomes translucent.
Add the minced garlic and cook for an additional 30 seconds.
Pour in the chicken broth, scraping the bottom of the skillet to deglaze and incorporate the flavorful bits.
Reduce the heat to low and stir in the fat-free Greek yogurt, Dijon mustard, and dried thyme. Mix until well combined.
Return the cooked chicken to the skillet, spooning some of the creamy sauce over the top. Let it simmer for a few minutes until the chicken is heated through.
Sprinkle the cooked turkey bacon over the chicken and sauce.
Garnish with chopped fresh parsley if desired.
Serve the Creamy Bacon Chicken over rice, pasta, or steamed vegetables.
Enjoy your Weight Watchers Creamy Bacon Chicken!
WW Points (Approximate per Serving):
The points can vary based on ingredients and portion sizes. For a typical serving size (1 chicken breast with sauce), it's 5WW points