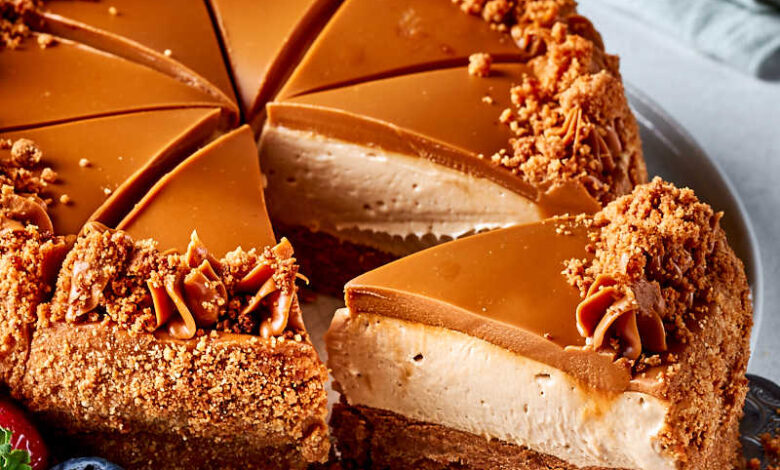 Ingredients:
For the Crust:
1 1/2 cups Biscoff cookie crumbs (or any low-fat cinnamon cookie crumbs)
3 tablespoons unsalted butter, melted
For the Cheesecake Filling:
3 (8 oz) packages reduced-fat cream cheese, softened
1 cup non-fat Greek yogurt
1 cup granulated sugar substitute (such as Swerve or Stevia)
1 teaspoon vanilla extract
3 large eggs
Instructions:
For the Crust:
Preheat your oven to 325°F (163°C). Grease a 9-inch springform pan with cooking spray.
In a bowl, combine Biscoff cookie crumbs and melted unsalted butter. Press the mixture into the bottom of the prepared springform pan to form the crust.
Bake the crust in the preheated oven for about 8-10 minutes or until set. Allow it to cool while you prepare the filling.
For the Cheesecake Filling:
In a large mixing bowl, beat the softened cream cheese until smooth and creamy.
Add the non-fat Greek yogurt, granulated sugar substitute, and vanilla extract to the cream cheese. Beat until well combined.
Add the eggs one at a time, beating well after each addition.
Pour the cheesecake filling over the cooled crust in the springform pan.
Bake in the preheated oven for 45-50 minutes or until the center is set and the edges are slightly golden.
Allow the cheesecake to cool in the pan, then refrigerate for at least 4 hours or overnight.
Once chilled, remove the cheesecake from the springform pan.
Optional: Before serving, dust the top with a sprinkle of crushed Biscoff cookies.
WW Points (Approximate per Serving):
The points For a typical serving size (1 slice), 4 WW points,