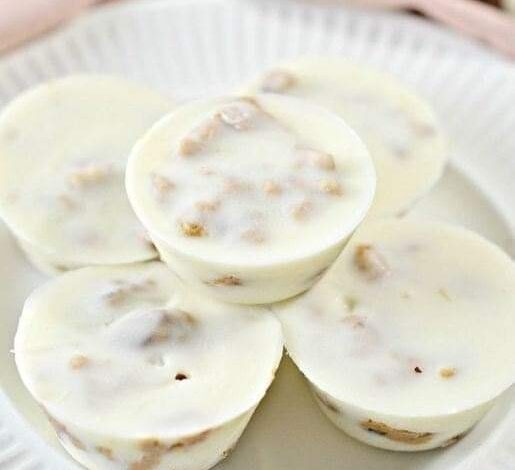 Here's a recipe for Mediterranean White Chocolate Peanut Butter Cups that I found.
Ingredients:
• 1/2 cup white chocolate chips
• 1/4 cup creamy peanut butter
• 1/4 cup chopped dried apricots
• 1/4 cup chopped pistachios
Instructions:
Melt white chocolate chips in a microwave-safe bowl or stovetop until smooth and silky.
In a separate bowl, mix together peanut butter, chopped dried apricots, and chopped pistachios.
Pour melted white chocolate into silicone muffin cups or paper muffin cups.
Spoon peanut butter mixture into each muffin cup.
Drizzle remaining melted white chocolate over the top of each muffin cup.
Chill in the refrigerator until set.
I couldn't find nutrition information for this specific recipe but I can tell you that white chocolate is high in calories and fat. If you have any other questions, feel free to ask!