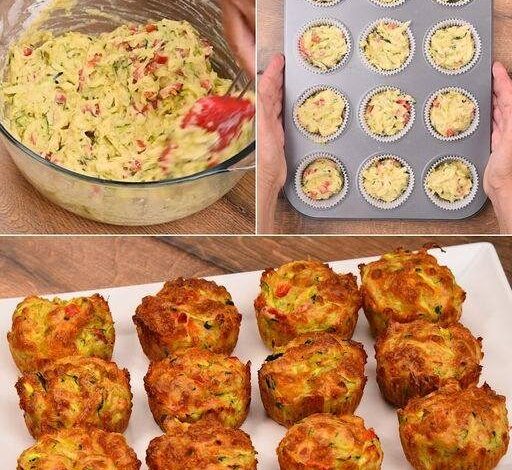 Indulge in the wholesome goodness of these Keto Zucchini Muffins, a delectable and guilt-free delight that's perfect for your low-carb lifestyle. Packed with the natural sweetness of zucchini and complemented by warm spices, these muffins make for a satisfying breakfast or a delightful on-the-go snack. Unlike traditional muffins loaded with refined carbohydrates and sugars, this keto version is made with almond flour and natural sweeteners, keeping your blood sugar levels in check while satisfying your cravings. Get ready to enjoy the tender crumb and irresistible aroma of these keto zucchini muffins that will surely become a favorite among keto enthusiasts and non-keto eaters alike.
Servings: Makes approximately 12 muffins
Ingredients:
2 cups almond flour
1/3 cup powdered erythritol or stevia (adjust to your desired sweetness)
1 teaspoon baking powder
1/2 teaspoon baking soda
1/4 teaspoon salt
1 teaspoon ground cinnamon
1/4 teaspoon ground nutmeg
2 large eggs
1/4 cup coconut oil, melted and cooled
1/4 cup unsweetened almond milk (or any other plant-based milk)
1 teaspoon vanilla extract
1 cup grated zucchini (squeeze out excess moisture with a paper towel)
1/3 cup chopped walnuts (optional, for added texture and crunch)
Instructions:
Preheat your oven to 350°F (175°C). Line a muffin tin with paper liners or grease the cups with coconut oil.
In a large mixing bowl, whisk together the almond flour, powdered erythritol (or stevia), baking powder, baking soda, salt, ground cinnamon, and ground nutmeg until well combined.
In a separate bowl, beat the eggs until well whisked. Add the melted and cooled coconut oil, unsweetened almond milk, and vanilla extract, and mix until fully combined.
Gradually pour the wet ingredients into the dry ingredients, stirring gently until you have a smooth batter.
Fold in the grated zucchini and chopped walnuts (if using), ensuring they are evenly distributed throughout the batter.
Spoon the batter into the prepared muffin tin, filling each cup about 2/3 full.
Bake the keto zucchini muffins in the preheated oven for 20-25 minutes, or until a toothpick inserted into the center comes out clean.
Once baked, remove the muffins from the oven and let them cool in the muffin tin for a few minutes.
Nutrition Facts per Serving (1 muffin – approximate values):
Calories: 191
Total Fat: 17g
Saturated Fat: 5g
Cholesterol: 31mg
Sodium: 110mg
Total Carbohydrate: 5g
Dietary Fiber: 3g
Sugars: 1g
Protein: 6g