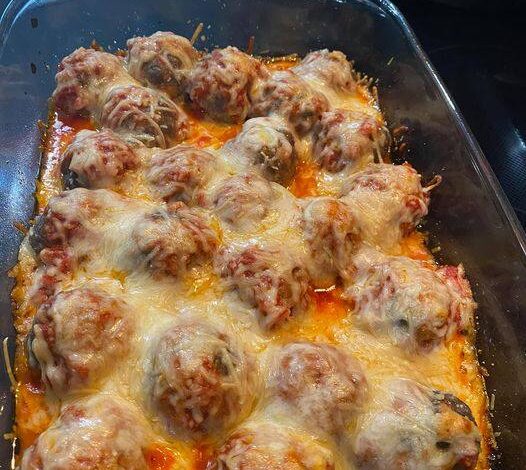 ngredients
Meatball Ingredients:
* 1 lb ground beef I used 85/15 blend
* 1 lb spicy pork sausage ( I just used hamburger)
* 1/3 cup grated or shredded parmesan
* 1/2 cup crushed pork rinds substitute for breading
* 2 egg
* 2 tsp onion powder
* 2 tsp fresh minced garlic
* 1/2 teaspoon Italian Seasoning blend
Casserole Toppings:
* Low Carb Red Sauce Spaghetti or Marinara(raos)
* 2 Cups Cheese for the top of the casserole
* Fresh basil for a topping
Instructions
Preheat oven to 400. Spray a casserole dish with cooking spray
Use a food processor to crush the pork rinds.
Combine all the ingredients (except for the red sauce 2 cups cheese and fresh basil that is set aside for the casserole) for the meatballs. I use my hands to mix all these ingredients.
Use a small cookie scoop and make small meatballs (all the same size)
Place the meatballs in a casserole dish and bake them for 15 to 20 minutes or until the meatballs are fully cooked.
Remove them from the oven and drain the grease.
Top with the low carb red sauce and cheese and put them back in the oven.
Bake for an additional 15 minutes until the cheese has fully melted.