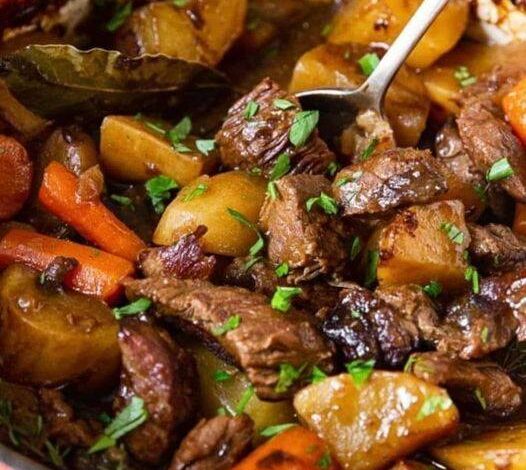 IRISH BEEF STEW

INGREDIENTS:
2 tbsp olive oil
1 tsp salt and pepper
1.5 lbs stewing beef
3-4 sprigs thyme or 1 tsp dried thyme
1 clove garlic
2 tbsp flour
2 cup water or beef stock, divided
1 can Guinness or other stout
1 bay leaf
4 carrots medium
4 potatoes such as red potatoes medium
INSTRUCTIONS:
Preheat the oven to 160C/300F
Heat the olive oil in a large Dutch oven/cast iron casserole pot and brown the beef chunks seasoned with salt and pepper over medium heat until golden. Do this in batches to avoid overcrowding.
Move the browned beef to one side of the pot and lower the heat, then add chopped onions and thyme, cook over low heat for 8-10 minutes until tender.
Then add minced garlic and cook briefly for 30 seconds.
Add the flour and stir the beef, so it's coated, then add the water or beef stock if using and scrape the bottom of the pot with a spatula to release the brown bits at the bottom.
Add the Guinness, one or two bay leaves, turn the heat up and bring to a boil. Then cover with a lid and put in the preheated oven for 1 hour.
After one hour take out of the oven and add carrots and potatoes cut into large chunks to the pot, stir and add 1 cup of water, cover with a lid and continue cooking the stew in the oven for 1.5 hours.
Take the lid off for the last 10 minutes of cooking.
Serve with bread and sprinkled with some fresh parsley for more flavour.