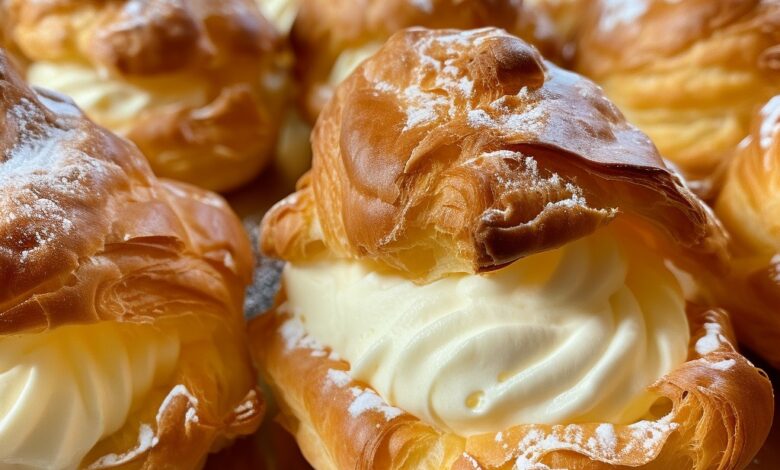 Cream Puffs
Ingredients
Pastry cream
5 eggs, large if possible
A cup of all-purpose flour
Half a teaspoon of salt
One teaspoon of sugar
Half a cup of unsalted butter
Cream Puffs recipe Directions
The first thing you want to do is to preheat your oven. It's important to ensure that the oven will reach around 375 degrees if possible. You can line 2 baking sheets on it, as that will help quite a bit.
Take your medium saucepan and here you want to add a cup of water, but also salt, sugar, and butter. Make sure that this combination is boiling and then you can use the wooden spoon so you can stir the flour in. Ideally, you want to stir until you get to see a film being formed right at the bottom.
Now you want to remove it from the heat and then you can transfer the contents to a bowl. This is great because it will help cool things down a bit. Leave it for 3 minutes, then add 4 eggs. Ideally, you want to do this one at a time, and stir after adding each egg just to ensure everything will be ok.
You will need to create the egg wash, here you have to whisk the last egg with 1 tbsp of water. After you finish this, just set it aside.
The next step involves transferring the pate a choux to a pastry bag. You should pipe multiple rounds onto the pans, around 1 or 1.5 inches should be good for any round. After that, you can smooth the peaks with your finger and round the tops. Brush the tops with egg wash.
The idea now is to try and bake until you see the puffs have a gold-brown coloring and they rise. You can let it all cool on the wire racks. You can store the puffs at room temperature, which can be good for up to a day.