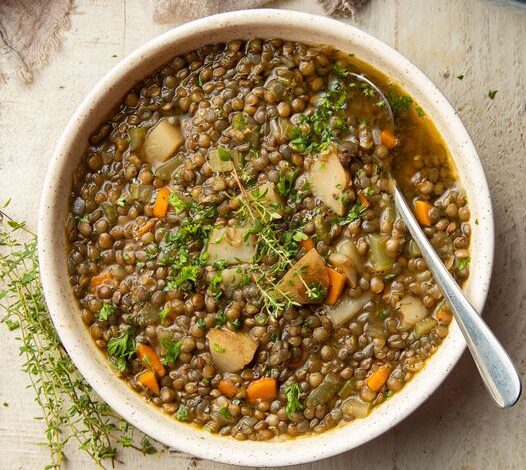 HERBED FRENCH LENTIL SOUP

Ingredients
2 tablespoons olive oil
1 medium onion, diced
2 medium carrots, diced
2 medium celery stalks, diced
4 garlic cloves, minced
8 cups vegetable broth
2 cups French green lentils (de puy lentils)
1 medium russet potato, diced
2 (2-inch) sprigs fresh rosemary
1 tablespoon fresh thyme leaves
1 tablespoon lemon juice
Salt and pepper, to taste

Instructions
Coat the bottom of a large pot with the olive oil and place it over medium heat.
Once the oil is hot, add the onion, carrots, and celery. Sweat the vegetables for about 10 minutes, stirring frequently, until they begin to soften.
Stir in the garlic and cook it with the vegetables for about 1 minute, stirring constantly, until it becomes very fragrant.
Stir in the broth, lentils, potato, rosemary sprigs, and thyme leaves. Raise the heat and bring the liquid to a boil.
Lower the heat and let the soup simmer for 20 to 30 minutes, until the lentils and potato are tender.
Remove the pot from heat. Carefully remove the rosemary sprigs from the soup, then stir in the lemon juice and season it with salt and pepper to taste.
Serve.
Nutrition Facts
Herbed French Lentil Soup
Amount Per Serving (1.5 cups)
Calories 337Calories from Fat 50
% Daily Value*
Fat 5.5g8%
Saturated Fat 0.8g4%
Sodium 765mg32%
Potassium 872mg25%
Carbohydrates 51.2g17%
Fiber 21.5g86%
Sugar 6.2g7%
Protein 20.4g41%
Calcium 94mg9%
Iron 6mg33%