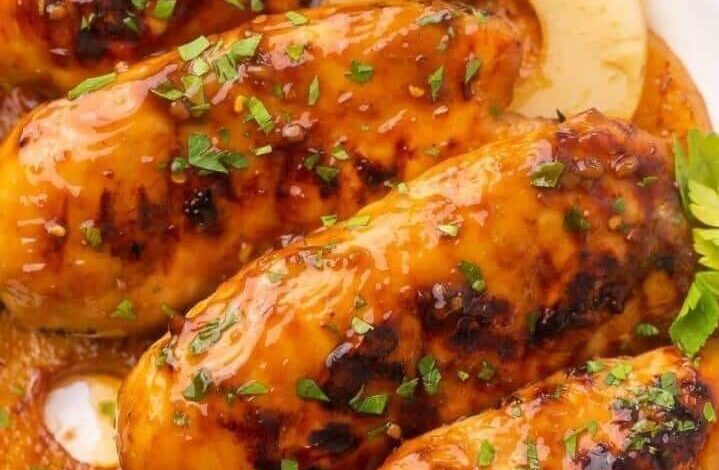 NGREDIENTS:
¾ cup unsweetened pineapple juice
½ cup brown sugar
¼ cup water
2 tablespoons low-sodium soy sauce
2 teaspoons freshly minced garlic
2 teaspoons minced ginger
½ teaspoon salt
¼ teaspoon red chili flakes add some heat but won't make it really spicy
2 lbs boneless skinless chicken breasts
DIRECTIONS:
Make Marinade
Whisk together all marinade ingredients (pineapple juice through red pepper flakes). Reserve ½ cup and set aside.
Place chicken in a zip-top bag or container just a little bigger than the amount needed for the chicken (too big and the marinade won't surround our chicken).
Marinade Chicken
Pour the remaining marinade over and around the chicken. Seal and turn to coat.
Allow the chicken to marinate for at least 30 minutes and up to 2 hours.
Grill
Preheat grill to medium-high (about 400 degrees). Grill chicken for 15-20 minutes, flipping once halfway through until an internal temperature of 165 degrees F is reached.
Oven Cook
Preheat oven to 400 degrees F and lightly grease a baking dish. Place chicken in the baking dish and bake for 20-25 minutes, until an internal temperature in the thickest part of the chicken reads 165 degrees F.
To Serve
Meanwhile, cook the remaining marinade in a small pot on the stovetop on medium heat until reduced slightly. If desired, stir together a small amount of cornstarch and water to thicken the sauce. Serve with the cooked chicken.
Notes
Storage:
Fridge: While the chicken is marinating, I don't recommend refrigerating for more than 2 hours. Chicken is easily broken down by the pineapple juice so too long and it will become mushy. Leftovers can be stored in the fridge for up to 4 days.
Freezer: you can freeze this recipe before and after cooking.
Before: freeze chicken in the marinade, then thaw in the refrigerator overnight (it will marinate as it thaws). Cook as directed.