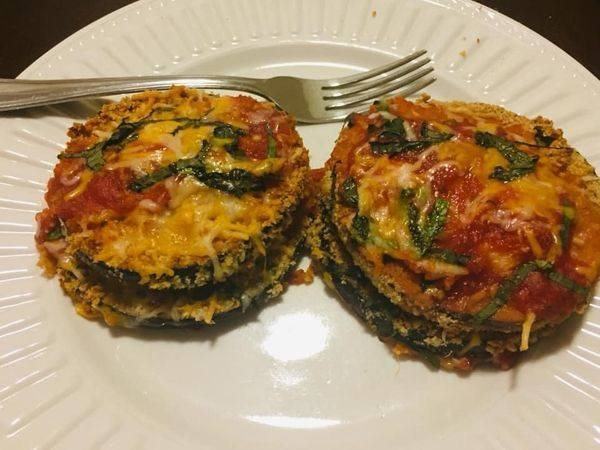 Eggplant parmesan
Bowl 1: 1 Cup of panko and Italian bread crumbs
Bowl 2: cup of flour I seasoned with garlic powder, onion powder, black pepper, teaspoon of salt
Bowl 3: Just Egg ( 3/4 of bottle)
Sliced eggplant placed on paper towel, and sprinkled salt on to draw out moisture. After 30 minutes I used paper towels to wipe of moisture and raised off salt. Dried each slice with paper towel and began breading.
Flour, egg, bread crumb and placed on lightly greased baking sheet. Sprinkle top with grated Parmesan and baked at 400 for 20 minutes (flip after 10 minutes)
In a lightly greased Pyrex dish I poured about 3 tablespoons of sauce
Remove from oven places first layer in Pyrex poured sauce on each. Not a lot, just a line. Add grated Parmesan. I didn't have any, but you should add mozzarella, fresh basil, set on second layer add sauce again the same way, maybe a lil more, then Parmesan, basil and bake 20 minutes. I added shredded cheese because as I aforementioned…I had no mozzarella.