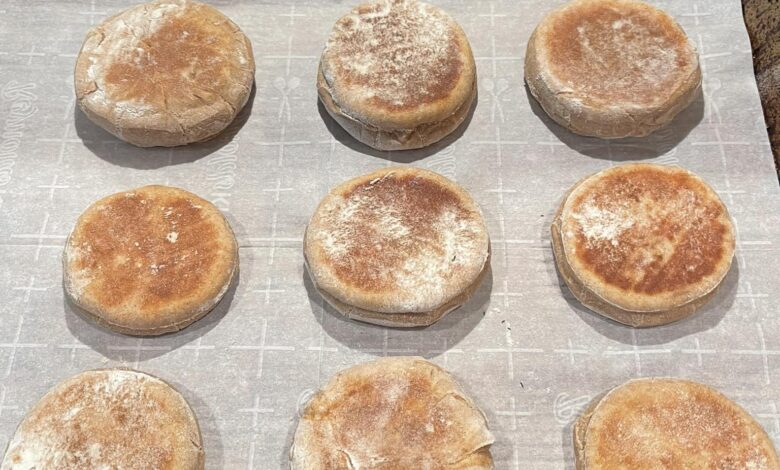 Ingredients
Overnight Sponge:
1/2 cup (100 g) sourdough starter
1 tablespoon (20 g) honey (or maple syrup or sugar)
1 cup (240 g) milk (can use water, but milk makes them more tender)
2 cups (240 g) whole wheat flour*
For The Muffins:
1½ teaspoon (7.5 g) baking soda
1 teaspoon sea salt (5 g)
1/2 cup whole wheat flour (60 g) (may need a bit more when kneading)

Instructions
The night before: Mix the starter, honey, milk, and 2 cups flour in an 8-cup measuring bowl or batter bowl the night before you want to make the muffins. Cover and leave at room temperature overnight.
In the morning: Transfer the sponge to the bowl of a mixer (or large mixing bowl to be made by hand). Add the soda, salt and 1/4 cup of the flour.
If using a mixer, use the paddle attachment to mix together, then switch to the dough hook and knead for 3-4 minutes, adding another 1/4 cup flour, one tablespoon at a time, until the dough is just tacky to the touch, clears the sides of the bowl, but still sticks to the bottom. If too much dough sticks to your finger when pressed, you can add another tablespoon to bring the total amount of flour to about 1/3 cup.
If making by hand, stir the ingredients together well, turn out onto a floured surface and knead 5 minutes, adding the same 1/4-1/3 cup of flour until it's tacky but doesn't stick to your fingers.
From the mixer, turn the dough out onto a floured surface and knead a few times into a round shape – just shape if kneaded by hand. Use a rolling pin to roll the dough about 1/2-inch thick. Cut into rounds with a 3-inch biscuit cutter.
Place the muffin rounds on a baking sheet lined with parchment or silicone and sprinkled with a dusting of cornmeal or flour. Leave about 2-inches between each muffin (they will stick together if they touch after rising), and dust the tops with a bit more flour or cornmeal.
Cover with a towel and let rise in a warm place for 1 to 2 hours. They will just slightly puff.
Heat a griddle to a medium-low setting (about 275 degrees) in order to cook the inside of the muffin without burning the outside.
Transfer the muffins, one at a time, to the heated griddle or pan (do not grease for even browning) and cook for about 4-5 minutes on one side. Flip the muffins, flatten slightly with the back of the spatula, and cook for another 4-5 minutes on the other side until both sides are nicely browned.**
Cool on a rack. Store for a couple days in an airtight container or freeze for longer storage.
Notes
The recipe will make 12 to 13 muffins, depending on the thickness.
*White whole wheat, whole wheat pastry flour, spelt or half regular whole wheat + half all purpose have all worked well. Using all regular whole wheat tends to make a denser muffin.
**If muffins are browned enough, but still don't seem cooked through, you can put them in a 350 degree oven for 5 to 10 minutes, though I've never needed to if cooked on medium-low. Note: the sides will look a bit doughy initially, but will firm up as they cool.
Nutrition
Serving: 1g | Calories: 103.57kcal | Carbohydrates: 20.67g | Protein: 3.89g | Fat: 1.21g | Saturated Fat: 0.45g | Cholesterol: 1.88mg | Sodium: 313.9mg | Potassium: 108.54mg | Fiber: 2.53g | Sugar: 2.37g | Vitamin A: 30.41IU | Calcium: 29.06mg | Iron: 0.83mg