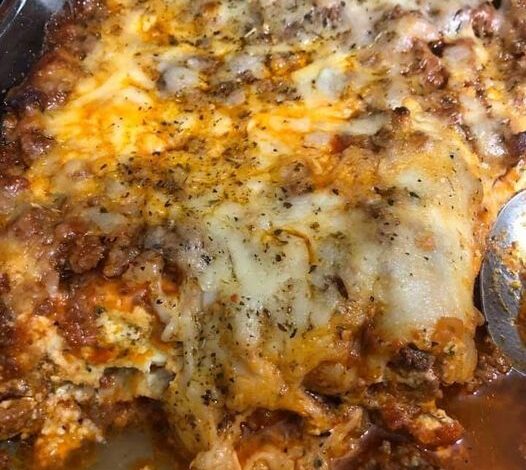 This is an easy recipe that only takes a few minutes to prepare, it is enough to feed the whole family, is low carb, and has a great Mexican flavor. This is also a recipe that you can prepare in advance, then heat when ready in the oven.
INGREDIENTS
1 pound Ground beef ; Browned
1 package Taco seasoning
1 tablespoon Onion powder
4 cups Cheese ; Colby Jack
1 Can Campbells Cream of Mushroom
1/2 Cup Sour cream
1/3 Cup Cholula
6 Each Soft wheat tortillas ; Low carb
INSTRUCTIONS
1. Preheat the oven to 350.
2. Brown the ground beef, and add the taco seasoning and onion powder. Mix well and drain.
3. Spray a 9″ by 13″ pan with non stick spray and spread three of the low carb tortillas across the bottom. (I use Mama Lupe or Mission low carb tortillas.)
4. In a small mixing bowl, add the cream of mushroom soup, Cholula, and sour cream and mix well.
5. Spread half of the sauce mixture, ground beef and cheese evenly across the tortillas in the pan.
6. Layer the other three tortillas on top of the mixture, then top with the remaining sauce, ground beef and cheese.
7. Bake for 25 to 30 minutes or until the cheese is completely melted and starts to bubble along the sides.
8. Let cool for a couple of minutes. Serve as is, or topped with lettuce, diced tomato and additional sour cream.