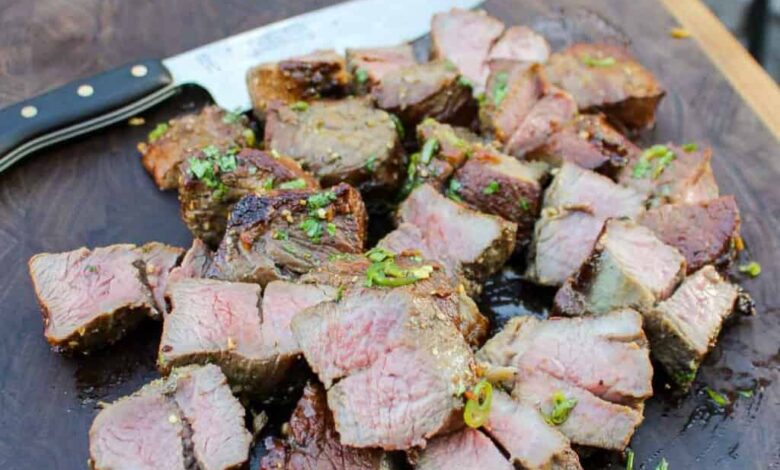 Black Pepper Steak Skewers for a delicious, savory way to enjoy tri-tip steak.
PREP TIME:30MINUTES MINUTES
COOK TIME:1HOUR HOUR
MARINATE TIME::4HOURS HOURS
TOTAL TIME:5HOURS HOURS 30MINUTES MINUTES
COURSE:LUNCH, MAIN COURSE
CUISINE:AMERICAN
SERVINGS:4 PEOPLE
INGREDIENTS 1X2X3X
STEAK & MARINADE:
▢2 Whole Tri-Tip cubed
▢1.5 cups Soy Sauce low sodium
▢2 tbsp FYR BLK Hot Sauce
▢2 tbsp Minced Garlic
▢1 tbsp Sesame Seeds
▢1 tbsp Dijon Mustard
▢1 tbsp Black Pepper
▢2 tsp Kosher Salt
CHILE HERB SAUCE:
▢2 Serrano Chiles sliced
▢¼ cup chopped Scallions
▢¼ cup chopped Cilantro
▢2 tbsp chopped Mint
▢2.5 tbsp Fish Sauce
▢1 tbsp FYR BLK Hot Sauce
▢1 medium Limes juiced
INSTRUCTIONS
In a bowl, add the soy sauce, FYR BLK sauce, minced garlic, sesame seeds, dijon mustard, black pepper and kosher salt. Mix together.
Cube up your tri-tips into 2" chunks.
Add the steak to a food safe bag or bowl, then add the marinade. Mix thoroughly.
Place in the fridge to marinate for at least 4 hours but ideally overnight.
Preheat your grill to a medium high heat (around 375F) using a three zone cooking method.
As the grill heats, pull out your steak and discard any excess marinade.
Divide until 2-3 groups and skewer on to your skewers.
Next, add all the ingredients for the chile herb sauce to a bowl and mix. Set to the side until ready to serve.
Once the grill is ready, add your beef skewers to the grill in between the two heat sources. Close the lid and let cook for about 7-8 minutes.
Flip the skewers over once they are nicely charred and cook for another 6-7 minutes or until the meat is 120F internal.
As the steaks finish cooking, brush some of the sauce over the top of the steak.
Once done, pull the skewers off and let rest for 10 minutes.
Pull the steaks off the skewers, slice, serve and enjoy!