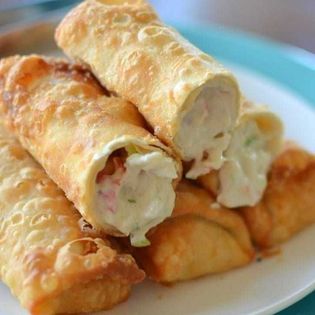 Homemade egg rolls
Ingredients
1 package of vermicelli rice noodles
4 cups of green cabbage, thinly sliced
8 ounces of brown or white mushrooms, thinly sliced
1 pound of ground pork
2 medium carrots, grated
1 medium onion, finely chopped
1 tablespoon of olive oil, plus 2 tablespoons
1/2 teaspoon of salt, plus another 1/2 teaspoon
1/2 teaspoon of black pepper
2 tablespoons of soy sauce
1 teaspoon of sesame oil
40-45 egg roll wrappers (from the freezer section)
1 egg, beaten (for sealing)
Oil for frying (about 2 inches deep in a Dutch oven)
Sweet chili sauce, for serving
Instructions
Preparing the Noodles
Soak the Noodles: Place vermicelli noodles in a large bowl and cover with hot water. Separate them using forks and let sit for 5-7 minutes until tender.
Drain and Rinse: Drain the noodles and rinse with cold water to stop cooking. Cut them into one-inch pieces and place them in a clean mixing bowl.
Preparing the Vegetables
Slice Cabbage: Thinly slice the cabbage using a serrated knife.
Slice Mushrooms: Thinly slice the mushrooms and pat dry on paper towels.
Grate Carrots: Grate the peeled carrots using a matchstick slicer.
Chop Onion: Finely chop the onion and set aside with other prepared veggies.
Cooking the Filling
Cook Pork: In a large skillet, heat 1 tablespoon of olive oil over medium heat. Add ground pork, breaking it up as it cooks. Season with 1/2 teaspoon of salt. Once cooked, transfer to the bowl with noodles.
Sauté Vegetables: In the same skillet, heat 2 tablespoons of olive oil. Add onions, carrots, and mushrooms, sautéing for 5-6 minutes until softened. Add cabbage and cook until wilted.
Combine Ingredients: Transfer the cooked vegetables to the mixing bowl with pork and noodles. Season with salt, pepper, soy sauce, and sesame oil, mixing well.
Assembling the Egg Rolls
Prepare Wrappers: Thaw the egg roll wrappers for 45 minutes. Keep them covered with a damp paper towel to prevent drying.
Assemble Egg Rolls: Place a wrapper on a clean surface in a diamond shape. Add 1/4 cup of filling to the bottom third, fold the bottom corner over, and tuck it under. Roll tightly, folding in the corners, and seal with beaten egg. Repeat until all wrappers are used.
Frying the Egg Rolls
Heat Oil: Heat oil to 340-350°F in a Dutch oven.
Fry Egg Rolls: Fry the egg rolls in batches for about 5 minutes or until golden brown. Avoid overcrowding the pot.
Cool: Transfer the fried egg rolls to a wire rack to cool for at least 15 minutes before serving.
Serving
Serve: Serve the egg rolls with sweet chili sauce and enjoy the crunch and flavor of homemade goodness!