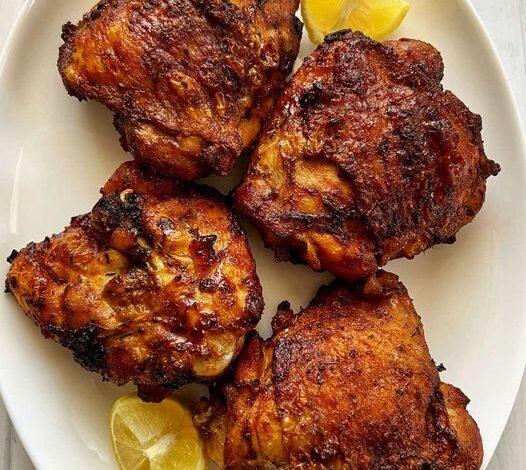 Cooking chicken thighs in the air fryer is currently my (healthy) obsession and, honestly, the best thing! These bone in chicken thighs in the Air Fryer are crispy on the outside and yet very juicy on the inside. Air fryer thighs are packed with flavors, easy to cook, and ready in 30 minutes or less. The best part is that you can serve air fryer chicken thighs with just about any main side dish. Relatively, they pair so well with fried rice, cabbage, roasted veggies, salads, and literally any dish as a choice of protein.
INGREDIENTS
SCALE1x2x3x
4 Big chicken thighs (bone in and skin on)
¼ teaspoon salt or less
¼ teaspoon black pepper
1 teaspoon onions powder
¼ teaspoon garlic powder
½ teaspoon dry thyme
2 teaspoons paprika
½ – 1 teaspoon "Slap ya mama" Cajun Seasoning by Walker and sons
1 Maggi; crushed (or 1 teaspoon Knorr seasoning)
1 tablespoon EVOO (Extra virgin olive oil)
1 lemon
INSTRUCTIONS
Wash the chicken thighs very well using ½ of one lemon (juiced). Pat dry with paper towels to remove as much moisture as possible.
Add seasonings and olive oil to the thighs, wear gloves, and rub the dry rub on every part of the chicken thigh using your hands. Cover and allow the thighs to marinate for 2 hours or cook immediately if in a hurry.
Preheat the Air Fryer to 400, place chicken skin up, flip/turn after 10 minutes, and cook for another 5 minutes. Then reduce the heat to 350, and cook for another 10 – 15 minutes. I cooked these big thighs for a total of 27 minutes. 
*Please note that cooking time can vary due to the chicken size of your chicken thigh or the type of air fryer. I have big chicken thighs, and they cooked at a good time. Equally, I have the Instant Pot Air Fryer, which works very well! Your best bet for cooking meat in the Air Fryer is to use a meat thermometer.
Cooking time can vary due to the chicken size of your chicken thigh or the type of air fryer. Use a meat thermometer to ensure your chicken is fully cooked!
Do not overcrowd your Air Fryer; if you have a smaller quart, cook in batch. My air fryer is 6 quarts.
Add salt according to your taste or health need. Some seasonings already have sodium, be sure to read the labels.
Do not place foil or parchment paper in your Air Fryer before placing the chicken.
Prep Time: 7 minutes
Cook Time: 27 minutes
Category: Main Dish
Method: Air Fryer
Nutrition Facts
Serving Size 1 Chicken Thigh
Serves 4
Amount Per Serving
Calories
217
% Daily Value*
Total Fat 9.8g
13%
Cholesterol 140.1mg
47%
Sodium 1160.4mg
50%
Total Carbohydrate 1.4g
1%
Dietary Fiber 0.6g
2%
Sugars 0.2g
Protein 29.6g
59%
Vitamin A4%Iron9%Magnesium9%Potassium8%Zinc22%Phosphorus23%Thiamin (B1)12%Riboflavin (B2)24%Niacin (B3)53%Vitamin B641%Folic Acid (B9)2%Vitamin B1238%Vitamin E4%Vitamin K10%