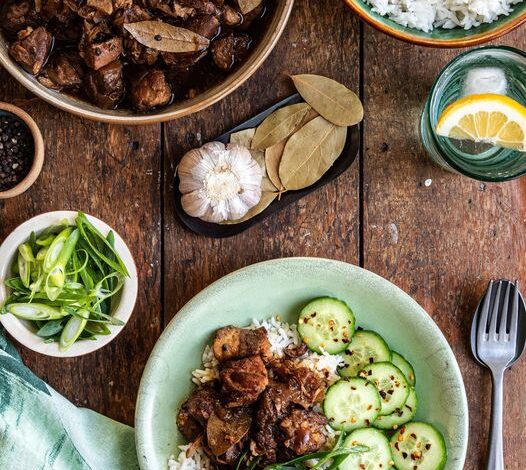 𝗜𝗡𝗚𝗥𝗘𝗗𝗜𝗘𝗡𝗧𝗦
2kg pork shoulder (or 1.5kg diced pork pieces)
1 Tbsp cooking oil
2 onions, chopped
1 Tbsp whole black peppercorns
1 cup white vinegar
½ cup light soy sauce
1 Tbsp dark soy sauce
3 Tbsp soft brown sugar
8 cloves garlic, sliced
5 dried bay leaves
To serve: spring onion, cucumber slices and rice
𝗣𝗥𝗘𝗣𝗔𝗥𝗔𝗧𝗜𝗢𝗡
1. Using a sharp knife, carefully remove the skin from the pork shoulder, leaving behind some fat. Cut around any bone and discard bone. Cut the remaining pork into 4cm cubes.
2. Place a frying pan on the stove and bring to medium high heat. Add 1 Tbsp cooking oil and fry the pork pieces, in 2 batches, for 5 minutes until browned on all sides. Remove pork pieces from pan and reserve.
3. Add onions to pan and fry for 2-3 minutes. Reserve fried onions.
4. Place black peppercorns in a mortar and pestle and pound until peppercorns are crushed and broken. If you do not have a mortar and pestle, leave the peppercorns whole. Do not use ground black pepper.
5. Add to the slow cooker: crushed peppercorns, white vinegar, light soy sauce, dark soy sauce and soft brown sugar. Stir until the sugar has dissolved.
6. Add garlic, bay leaves, pork and onions. Stir to combine. Resist the temptation to add water. Liquid will be released while cooking. You do not need to add more liquid.
7. Cover with lid and cook for 8 hours on low setting or 5 hours on high setting.
8. Serve with steamed rice and cucumber slices. Garnish with spring onion.