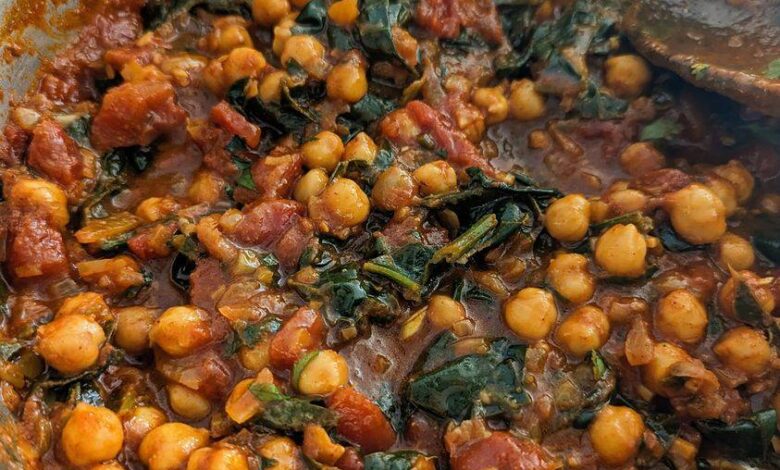 Chickpea Spinach Curry
Ingredients:
2 cups cooked chickpeas (canned or cooked from dry)
2 cups fresh spinach leaves, chopped
1 onion, finely chopped
2 tomatoes, chopped
2 cloves garlic, minced
1-inch piece of ginger, grated
1 green chili (adjust to your spice preference), chopped
1 teaspoon cumin seeds
1 teaspoon ground coriander
1 teaspoon ground cumin
1/2 teaspoon turmeric powder
1/2 teaspoon paprika or chili powder (adjust to taste)
1 teaspoon garam masala
Salt to taste
2 tablespoons cooking oil (vegetable, canola, or coconut oil)
1 cup water or vegetable broth
Fresh cilantro leaves for garnish
Lemon wedges for garnish (optional)
Instructions:
Heat the cooking oil in a large skillet or pan over medium heat. Add the cumin seeds and let them splutter.
Add the finely chopped onions and sauté until they become translucent and start to brown, which should take about 5-6 minutes.
Add the minced garlic, grated ginger, and chopped green chili. Sauté for another 1-2 minutes until the raw smell disappears.
Stir in the ground coriander, ground cumin, turmeric powder, and paprika or chili powder. Cook the spices for about 1 minute until they become fragrant.
Add the chopped tomatoes and cook until they become soft and start to break down, creating a thick tomato sauce.
Pour in the cooked chickpeas and chopped spinach. Stir well to coat them with the tomato and spice mixture.
Add the garam masala and season with salt to taste. Mix everything together.
Pour in the water or vegetable broth, bring the mixture to a boil, and then reduce the heat to simmer. Cover the pan and let it simmer for about 10-15 minutes, allowing the flavors to meld and the spinach to wilt.
Taste and adjust the seasoning, adding more salt or spices if necessary.
Once the curry has thickened and the spinach is tender, remove it from heat.
Garnish the chickpea spinach curry with fresh cilantro leaves and serve it hot with rice or naan bread. You can also squeeze some lemon juice over it for extra flavor.
Enjoy your homemade chickpea spinach curry, a flavorful and nutritious dish that's perfect for vegetarians and vegans or anyone looking for a delicious plant-based meal.