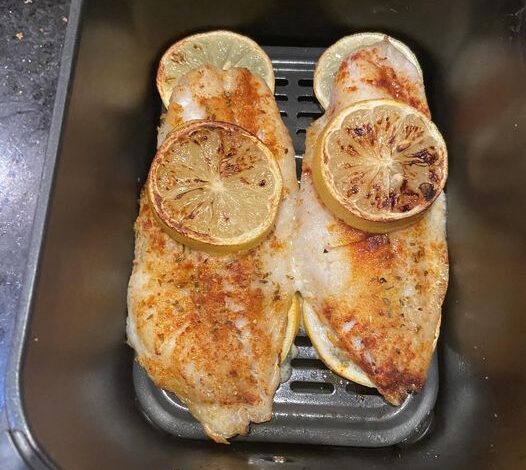 yield: 2
prep time: 2 MINUTES
cook time: 7 MINUTES
total time: 9 MINUTES
This easy air fryer snapper recipe is made with just a handful of ingredients, like a simple seasoning blend and fresh lemon slices. It requires minimal prep, and in under 10 minutes you have perfectly cooked red snapper fillets that are fork-tender and flaky, moist, and flavorful!
INGREDIENTS
2 snapper fillets
¼ teaspoon garlic powder
¼ teaspoon salt
¼ teaspoon paprika
¼ teaspoon oregano
lemon
oil spray
1 teaspoon butter (optionally)
INSTRUCTIONS
Clean fish fillets. Season with salt, black pepper, garlic and onion powder. Add paprika
and oregano.
Spray air fryer basket with oil. Lay sliced lemon in the basket. Place seasoned snapper fillets on
top of lemon skin side down. Add a piece of butter on top if using.
Cook at 375 degrees for 7 minutes.
NOTES
Leftovers. Store cooked red snapper fillets in the air tight container in the fridge for up to 5 days.
Freezer. You can freeze cooked fish. Place fillets in the freezer safe container or bag and freeze for up to 3 months.
Reheat. Reheat in the microwave for 1 minute or in the air fryer at 400 degrees for couple minute or until nice and hot.
NUTRITION INFORMATION:
 YIELD: 2 SERVING SIZE: 1
Amount Per Serving: CALORIES: 311TOTAL FAT: 12gSATURATED FAT: 2gTRANS FAT: 0gUNSATURATED FAT: 8gCHOLESTEROL: 85mgSODIUM: 378mgCARBOHYDRATES: 4gFIBER: 1gSUGAR: 1gPROTEIN: 45g